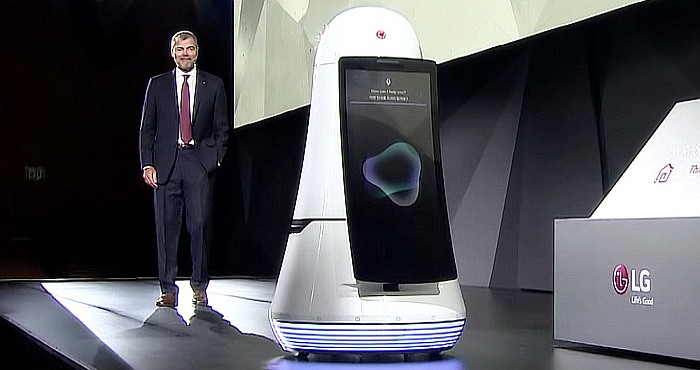 Whenever we hear about LG, we reasonably tend to center on its handsets, TVs and maybe appliances, after all, we are most surprised when to something like a new display or the LG G6 launched. But LG is a great company that does all kind of things with electronics, like the cute and useful airport robots that it launched at CES 2017.
LG first put is two helpful airport robots to work at Seoul-Incheon International Airport (ICN). One tall model with a display, suitably titled "Airport Guide Robot," is made to assist passengers find their way around the huge ICN airport terminals. Somewhat less thrilling from a passenger viewpoint, but still significant, the other one is the "Airport Cleaning Robot" that's made to tidy up the floorings.
ICN airport's chief terminal is about 6.4 million square feet, and is planned to enlarge further with one more passenger terminal and more distant forecourts. It presently attends over 55 million passengers annually, and by 2020 will be extended to serve up to 100 million. At that kind of measure, it is logic to try and join in robots to assist together with signage and people. LG is expecting the two robots it has made will be appropriate.
With more than 6 million square feet of floor and 60 million annually passengers served, robots are basically needed. The Airport Guide Robot just rolls around the station without help, offering to assist passengers, like a traveler support worker would. Just with a scan feature of a boarding pass, it can display a map of where the traveler is required to go to board their flight, or give guidelines to other facilities and points of concern like shops, restrooms, and restaurants. It can do so in a variety of languages including English, Chinese, Korean, and Japanese. The robot can even individually escort a lost passenger to any point of interest, as it is totally capable of getting everywhere in the airport a traveler would need to go.
All of those individuals make a mess, as we are aware, big global airports aren't completely closed even at late-night, that's where the 'Airport Cleaning Robot' intervenes. It's essentially a massive version of the robot voids many of us have round our own house: it goes around the terminal, fudging people and substances by means of sensors and LIDAR as it brushes the floors. A robot like this a much better resolution than people walking with usual dust brooms to have the terminal in top state between deep washings as millions of people come in and go out.
LG anticipates both robots to be completely tuned up and functioning at ICN by mid-year, well in advance of the huge number of individuals who will fly into Seoul to attend the 2018 Winter Olympics to be hosted in Pyeongchang.