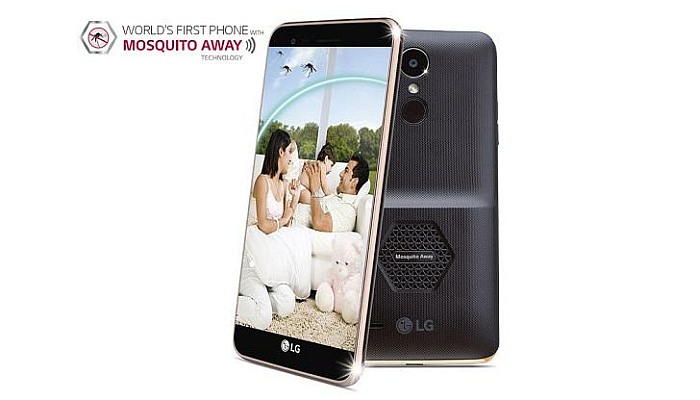 Just last week, the India Mobile Congress saw the launch of a brand new LG smartphone that offers a type of technology that no other smartphone ever has. It may not be on the same level as the iPhone X or the Samsung Galaxy S8, but the LG K7i brings the "Mosquito Away" feature to the table, and that is impressive.
In actuality, the LG K7i is in the low-end category of budget brands of smartphones. It has specs that are not incredibly impressive and match those of many competitors. For instance, the display is a five-inch HD, the device has 2 gigs of RAM, 16 gigs of internal storage and an unspecified quad-core chipset.
It may even be a turnoff to some that the LG K7i comes out of the box running Android Marshmallow for an operating system. Most devices these days come equipped with Android Oreo or at least Android Nougat, so the LG K7i is already behind the times. It has not even been confirmed that the K7i will support updates.
The biggest point of pride for the South Korean company is the fact that mosquito protection, quite an odd feature to include in a device like this, is standard on this model.
The Mosquito Away feature available on the K7i is described by LG as a new technology that utilized ultrasonic sound waves to get rid of mosquitoes. It is interesting to note that this is not the first LG device to include this particular technology. In fact, they have produces some air conditions, washing machines and even televisions that contain the Mosquito Away technology.
Scientists are actually still debating on whether or not this new sound wave tech actually works to repel mosquitoes. The BBC has already reported that no proof exists that the technology actually works. Also stating opinions much the same as that of the BBS is Dutch Malaria Foundation entomologist, Bart Knols, who said there is no evidence, from a scientific standpoint, that mosquitoes are even disturbed by the technology.
We suppose that only time will tell, as more people purchase the LG K7i and as reports begin to come in. Will there be scientific studies done on the phone? It is certainly a possibility, considering the claims of better health due to the Mosquito Away Technology. Perhaps within the next few years we will no, without a doubt, that the technology either works or does not work.